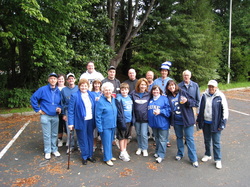 A tailgate from the Ted Roof days.
CrazieTalk.Net was born on April Fool's Day 2009. From our inception, we have been a band of die hard Duke fans of all sports, not just basketball. Our favorite sports season is basketball of course, but during football season we get to actually get together under our tents on Blue Devil's Alley for some amazing tailgates. We use our user forums (
www.crazietalk.net/ourhouse
) to keep up not only with our opinions on games, but to keep taps on each other's lives. We are far more than a random collection of Duke fans, we are truly a family that is there to share with, laugh with, cry with and always support. Besides our forums, those that aren't lucky enough to be at the games gather in
Section 21
, our chat room, to collectively yell at our televisions and radios. We've come a long way since that April 1st, adding a
page on Facebook
as well as a
presence on Twitter
.
We hope you come join us in our forums for our fun and love of the Blue Devils. GO DUKE!!!
---